What's happened up till now?
We all know inflation is running high and price rises have affected many food items, but olive oil has some specific factors which have led to the price of bulk olive oil rising from around €3/litre in July 2021 to €5.70/litre in July 2022. You have to go back almost 30 years, to 1997, to find similar prices. This has impacted the price on the shelf, with a 60% increase between January 2022 and April 2023.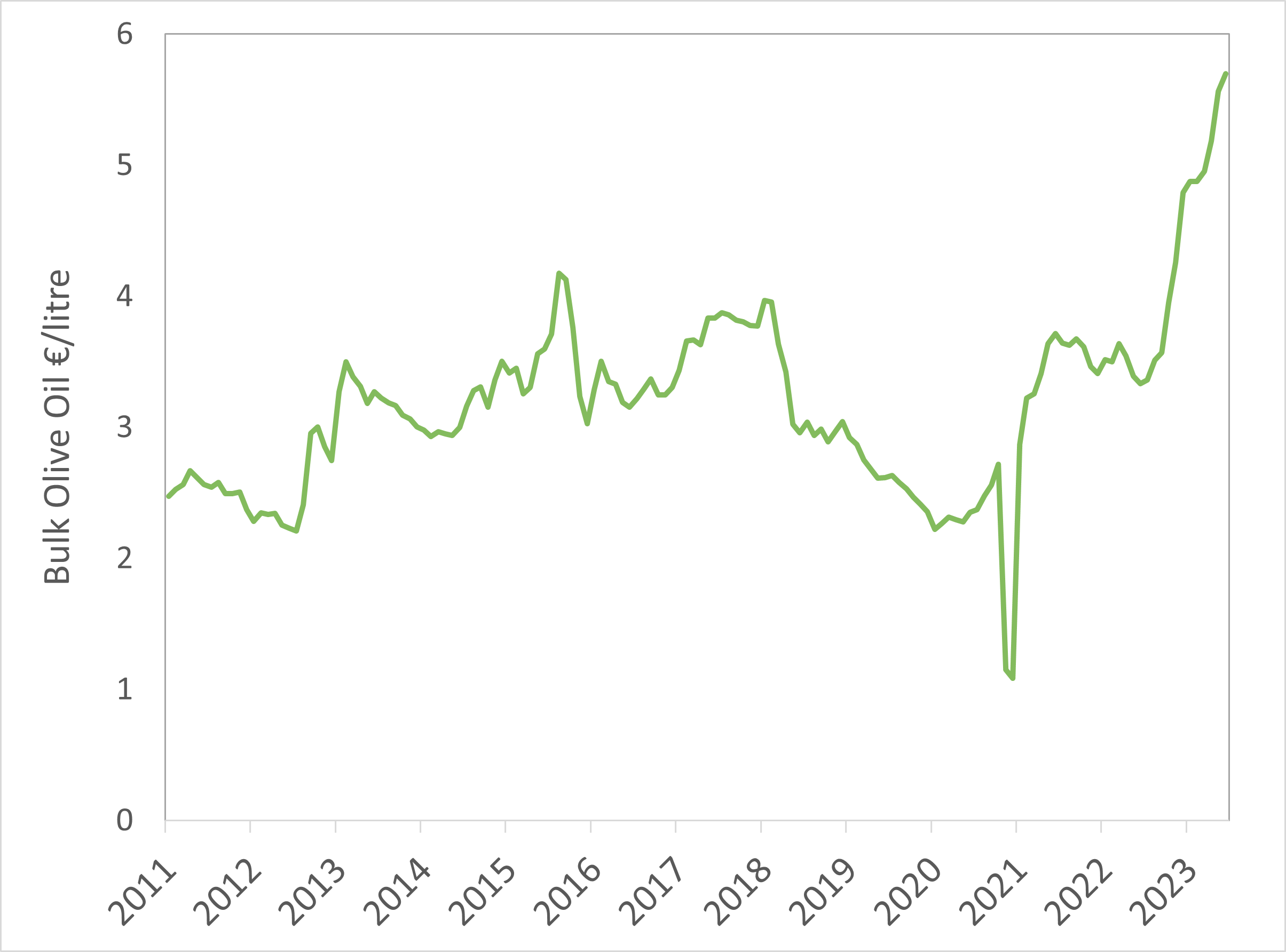 Why have prices risen so much?
Price started rising in early 2022 due to drought in Spain over winter that would inevitably lead to a poor harvest by the end of the year. A lack of rain in October and November further worsened the harvest and pushed prices higher still. In the end, Spain only harvested half the olive oil it normally would in the 2022/23 harvest.
Why does Spain affect Greek Olive Oil prices?
Firstly, Spain is by far the largest producer, accounting for over 40% of all olive oil produced in the world — in a typical year, some 1.4m tonnes, out of a total of 3.2m tonnes. Most of the rest is produced around the Mediterranean basin, with Italy, Greece, Tunisia, Turkey, Morocco, Portugal and Syria, together with Spain, accounting for 90% of all production worldwide. With such a concentration of production in one country, what happens in Spain has a very large effect on the whole market.
Like many crops, olive oil (including extra-virgin) is a commodity that is traded in bulk, so a price is set across an international market and price differences between countries or regions are evened out by trade. In practice, the Greek market is driven by traders from Italy who buy large volumes from Greece and then blend it and package it. Italy also suffered severe drought in 2022, leading to a much-reduced harvest, so demand from Greece was higher than usual. Different rules allow Italians to blend olive oils from many sources, which combined with much better marketing, means Italy manages to export a lot more packaged olive oil.
Can't you fix prices at harvest?
We often get asked why the price can't just be set at the point it is harvested and locked in for the year. Apart from the fact that there is the global market in bulk oil, this also has to do with how the olives themselves are produced and sold. Much like vineyards in Burgundy, the same Napoleonic inheritance laws mean that olive groves in Greece are highly fragmented and owned by many individual smallholders. The olive oil is usually pressed, stored, and then bottled by a producer who will have some of their own groves but will also buy in olives from many other small-scale farmers. Rather than agree a price at the point of harvest, most farmers prefer to get paid for their olives when the olive oil is sold, at a price determined by the current global market price. This means they are not beholden to the producers at harvest when everyone is selling their olives, which must be pressed very soon after harvest, but can benefit (or lose) depending on the price that develops for the oil over the year.
Anything else going on?
A smaller but significant factor is the rise in packaging costs (from glass to tins to cardboard boxes for transport) that rose initially following the pandemic and then more dramatically with the start of the Ukraine war. Production and transport costs have also risen due to energy prices and the rise in sunflower oil from the war in Ukraine, the world's largest producer, has affected the price of all cooking oils. Finally, global demand has been increasing as awareness of the health benefits and quality of olive oil increases.
What about this year's harvest?
As the drought in Spain has continued over this past winter and into spring, we have seen another round of price increases in the olive oil market. A very dry March and April, in particular, saw prices soar and this has continued in June and July.
Turkey and Greece had a bumper year last year as conditions were close to perfect in the Eastern Mediterranean, however, a feature of olive trees is that they do not produce a consistent crop from year-to-year but will naturally see-saw from a good year to a fallow year the next. This means that the predicted low harvest in Spain will be compounded by what will certainly be a smaller harvest in Greece too this year.
What's more, the recent warm winter in Greece will have allowed more pests to survive and will not have provided the winter dormancy the trees need to bud properly in spring. This was followed by a wet spring, which impacts flowering, reducing the number of olives formed.
What about the long-term?
Although olive trees are incredibly hardy, their crop is highly susceptible to weather conditions including frost, drought, rain, and hail, as well as pests. The increased variability in the weather we are seeing from climate change has had a big effect over the past few years. Heat waves, drought and wildfires can also completely kill off an olive grove, which will take many years to be replanted and come back into production (they hit their stride in their 50s and can live 600 years or more!). Climate change-induced weather patterns have not only led to reduced yields but also lower quality olive oil. We are also likely to see a shift in the areas that are suited to olive oil production as the climate warms, but this change in land-use takes time.
Is it all bad news?
While we have seen many factors combine to push up the price of olive oil recently, it remains a fantastic food source that can be cultivated sustainably and can survive in quite extreme conditions. Olives can easily be cultivated organically, and much work is being done to find ways of minimising water use. Marketing is also important. While Greece is the third largest producer after Spain and Italy, 70% of the production is extra-virgin, so it is the largest producer of high-quality olive oil in the world. If Greek farmers and producers can export more of their oil packaged to sell to consumers and chefs, rather than selling it off in bulk to improve inferior blended oils, they will ensure a fair price for their crop and help sustain and even boost Greece's production.
Ultimately, olive trees have been cultivated for many thousands of years and will continue to produce a highly nutritious food for many years to come.
What can I do about it?
In short, there is not much that can be done other than buying olive oil now, before prices increase further. For our part, we maintain prices on the stock we have so that it always reflects the price we have bought at from our producers. This is where the comparative pricing on our website is useful, showing you the price per litre across all the products and sizes. We also always work directly with our producers so we can source the best quality olive oil, which is always unblended extra-virgin oil from a specific area, and ensure transparency and tracability. High prices encourage various types of fraud with many substandard, old, or even dyed oils finding their way onto the market. That's why it's worth buying from a reputable source and if something looks too good to be true it probably is!
We hope that the market will stabilise in autumn once this year's harvest becomes clear and that conditions for next year will be a little more favourable.
Sources:
Office for National Statistics
Our Olive Oil Producers!